How To Finish Your Basement. Steps to finishing a basement Near Marquette, Ashland, Iron Mountain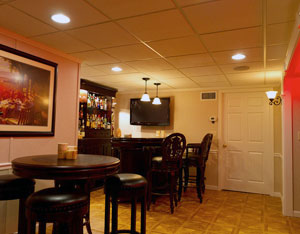 Contact Us For a FREE Estimate
Finishing your Basement -- Floors, Walls, and Ceilings
Basement finishing is a big job, and we know you want it done right. Count on Northland Basement Systems for a fast, professional basement remodeling project for your home.
Our contractors will remove any old materials and install a new, warrantied basement finishing system in your home in just 7-10 days.
If you're interested in a free, no obligation basement finishing quote, call us or send us an e-mail today. We operate in the Michigan and Wisconsin area, including areas like Woodruff, Park Falls, Minocqua, L'Anse, Washburn, Ontonagon, Crystal Falls and nearby areas.
Seven Steps to Remodeling your Basement
When speaking with homeowners during our free visits, we find that many of our customers ask what we'll be doing when we come to your home.
To help give you an idea of the steps we take when renovating a basement, we've broken down our process into seven easy steps.
Take a peek into what we're doing in basements every day-- and if you're interested in learning more about what we can do for your basement, send us a call or e-mail, and we'll schedule an appointment for you right away.
---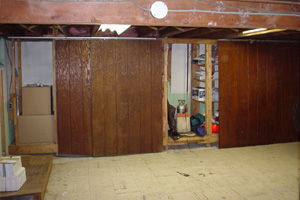 Step 1: Remove Old Materials
Sometimes when we visit a basement, it has an old basement finishing system that the homeowner would like removed before the work begins.
Drywall, wood, linoleum flooring, and many other materials are notorious for growing mold and being damaged by a humid basement environment. If your basement is experiencing damage like this, we'd be happy to help you tear out the old basement finishing materials and remove them from your home.
If you have utilities or other things that need to be removed, let us know. If it's something we can't move, we'll be sure to recommend a great professional in your area.
---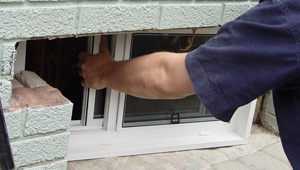 Step 2: Install Windows, Wells, & Staircases
Once the basement is clear, we can get started on the work on fixed structures such as windows and staircases.
We usually start by getting the basement stairs ready for finishing so they're ready to accept the basement walls when we install them.
If basement windows, egress windows, or basement window wells are included in your finishing project, we like to install these first as well, so we know how much space we'll need to allocate for the walls.
If you haven't heard about our basement window wells, be sure to ask us! They're a small addition that can make a big difference by maximizing natural sunlight in your finished space!
---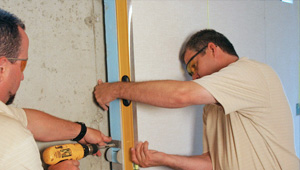 Step 3: Install Wall System & Doors
Our first step in installing our basement walls is the fire blocking. Our basement wall system has a Class A fire rating-- the best there is!
Next, we customize our walls to work with the windows and create wire channels for electrical outlets and light switches. Finished basement doors are installed on the closets and between rooms.
For a clean installation, we either cut our basement wall systems outdoors, or we cut them indoors with a vacuum/saw combination. This helps reduce dust potential.
---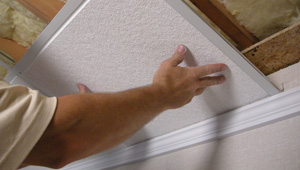 Step 4: Install Drop Ceiling & Lighting
First, we box out the girders and beams to accept our wire frames, and we plan your basement ceiling to work around vents and obstacles.
We like to install the crown molding for our ceiling tiles before actually hanging the dropped ceiling. Before installing the tiles themselves, we make sure all basement lighting is in place.
Our basement ceiling tiles include a 30-year warranty against sagging and mold, so you can count on them to stay beautiful for a very long time.
---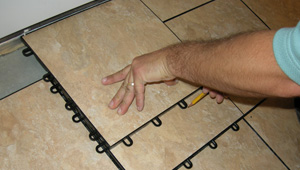 Step 5: Place Flooring & Underlayment
Once the walls and ceiling are installed, we can sweep up and install your finished flooring.
All our basement flooring options are installed without grout or adhesives, and are ready to use the minute they're installed.
If you have an uneven floor, we will often use a one-mil underlayment, to help dampen any noise.
---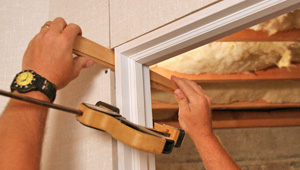 Step 6: Add Trim & Finishing Touches
At Northland Basement Systems, we never forgo the finishing touches. We have several designs for base trim and casing for your walls and doors.
Additionally, many of our homeowners request special finishing touches in their home, such as shelving, TV mounts, or mounted wall lights.
Every basement we finish is a unique creation, made especially by the homeowner to fit exactly what they want.
---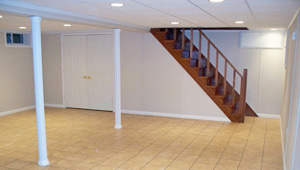 Step 7: The Cleanup
Our job is never over until your basement is sparkling clean. After the installation is complete, we give the space a once-over, making sure that all dust and debris is out of your newly-finished space.
We'll take care of the removal of any debris or old material that came from your previous basement finishing-- we want you to be able to start enjoying your space right away.
If you'd like a FREE basement finishing estimate for your home, we're ready to help you! Call or e-mail us today!
---
Looking for a price? Get a no cost, no obligation free estimate.