Retaining Wall Repair Contractor Near Ashland, Marquette, Iron Mountain
How To Repair Crumbling Or Failing Retaining Walls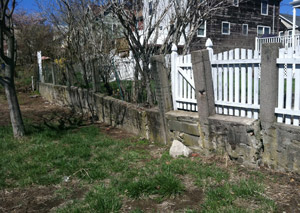 Around houses, retaining walls make sloping areas usable by creating level space for gardens, driveways, terraces, and walkways.
Retaining walls are also common along roadways, parking lots, and bodies of water. They have many applications.
Basement walls are also a type of retaining wall. We have a unique system for repairing failing basement walls.
The Problem:
Your retaining wall is showing signs of failure.
What is a Retaining Wall?
Retaining walls serve to retain the lateral pressure of soil. More simply, retaining walls are used to hold back soil and substrate from moving due to the effects of gravity and erosion.
Retaining walls are typically designed out of concrete, stone, wood (including railroad ties), vinyl, masonry, steel, or brick.
Telltale Signs:
Tilting Walls
Separation of Retaining Wall from Adjoining Walls
Forward Movement of Wall or Wall Sections
Buckling, Cracked, or Crumbling Walls
Rotted Wood
How to Fix It:
We install either a wall anchor system or helical tieback system along the retaining wall to reinforce the structure.
Identifying Retaining Wall Failure
Signs of a failing retaining wall are usually easy to identify, as shown in the different examples below. The important thing to know is that these symptoms will become increasingly worse over time. Unless proper repairs are made, the wall will eventually fail completely.
Signs Of A Failing Retaining Wall
Most often, a retaining wall will show signs of failure in one of three ways: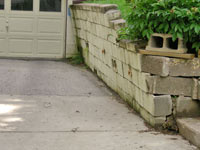 Collapsing/Tilting Retaining Walls
Soil issues and/or poor construction are often the culprits for retaining walls that are tilting. This can happen if the footing toe is too small or if the wall wasn't properly reinforced. Railroad tie retaining walls can begin to collapse due to wood rot or deterioration.
Most retaining walls require drainage "weeps". If water accumulates behind the wall, this additional weight can cause clay soils to expand, leading to cracks and tilting.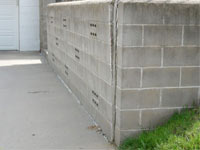 Retaining Walls Separating From Adjacent Walls
Like collapsing/tilting retaining walls, walls that are separating from adjacent walls are often caused by poor quality construction.
A separating retaining wall may not have been designed to withstand the weight that actually bears on the wall. Poor drainage and inadequate reinforcement or connection to the adjacent wall are other possible causes. In unusual cases, expansive soils may also cause a retaining wall to separate from an adjoining wall.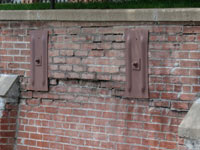 Crumbling/Failing Retaining Walls
Retaining walls can crumble for a wide variety of reasons, most related to improper design of the walls itself.
Often, the wall was not designed to bear the weight load behind it. In the case of concrete retaining walls, the issue may be inadequate, weak, or poorly mixed concrete.
Concrete retaining walls may also have been designed with inadequate steel rebar, resulting in insufficient strength.
Repairing Retaining Walls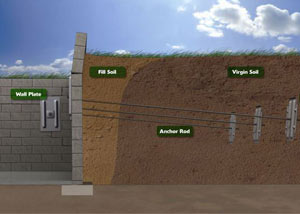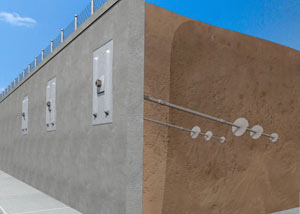 (Above) A wall anchor system relies on the fixed position of an earth anchor and clamping pressure from an anchor rod.
(Below) A helical anchor system utilizes helix-shaped plates welded to the anchor shaft to pull the anchor deep into the soil.
To repair retaining walls, we at Northland Basement Systems typically recommend either wall anchors or helical tiebacks to restore structural integrity.
Both wall repair techniques use a strong steel wall bracket on the exterior of the retaining wall to brace the wall and properly distribute the anchor's clamping pressure.
With both wall anchors and helical tiebacks, your foundation repair contractor will also attempt to return the wall to its original position, restoring its appearance and structural integrity.
Wall anchors accomplish this by driving an anchor rod through 1" holes driven into the retaining wall. These rods are connected to earth anchors that are placed within augured holes within the soil beyond the retaining wall.
Once assembled, the wall plate is installed, and the rod assembly is tightened. This can potentially straighten the wall and return it to its original position.
Helical anchors are installed from the exposed face of the retaining wall, through a hole cut in the wall. The anchor's helical blades help to pull it deep into the soil and anchor it there. After closing the hole in the retaining wall, a wall plate is installed and a nut is tightened over the protruding threaded rod to brace the wall.
Wall anchors are generally the more economical solution to repairing a retaining wall. However, in some cases, wall anchor installation is not a possibility, and helical anchor installation must be considered. This includes situations where rocky soil is an issue, or when space restrictions make auguring a hole beyond the retaining wall an impractical solution. Your foundation repair specialist will be able to advise you on the most appropriate solution for you.
Learn about our foundation wall anchor system.
What NOT To Do
Like other solutions for structural issues, you will encounter many options for repairing your retaining wall. Here are two "fixes" that we at Northland Basement Systems do NOT recommend: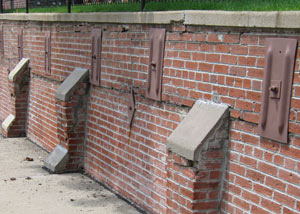 At Northland Basement Systems, our wall anchor systems are designed with galvanized steel to help protect from rust and corrosion.
We include a 25-Year Manufacturer's Warranty with each installation, as well as our own installation warranty.
Removing & Rebuilding The Retaining Wall:
Unless the retaining wall is showing extensive deterioration, removing and rebuilding the walls should not be necessary.
Removing and rebuilding a retaining wall is an expensive, time-consuming process that typically involves heavy equipment, major excavation and the loss of valuable landscaping features.
Poor Quality Wall Anchors:
Retaining wall anchors are exposed to the elements -- both in the soil and on the wall plates themselves. If these anchors are poorly made or not treated to resist corrosion, they will quickly look old and unsightly. This will lower your property value and possibly lead to early failure of the anchor itself.
We recommend installing wall anchors made with galvanized steel -- with a written warranty that stands by the product for decades to come.
We Repair Retaining Walls In MI and WI!
At Northland Basement Systems, we provide warrantied solutions for retaining wall repair throughout Michigan and Wisconsin. For homeowners interested in learning more about their unique problem, we offer free, written retaining wall repair quotes at no obligation. To schedule an appointment with one of our specialists, call or e-mail us today!
We proudly serve Ashland, Marquette, Iron Mountain areas such as Ironwood, Iron Mountain, Escanaba, Hancock, Iron River, Phillips, Eagle River, and nearby.
Looking for a price? Get a no cost, no obligation free estimate.