Cellular Concrete Experts Near Marquette, Ashland, Iron Mountain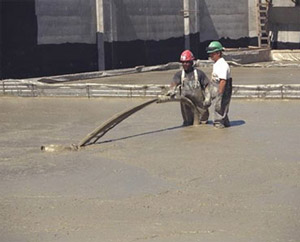 Versatile material. Cellular concrete provides several benefits over regular concrete.
Cellular concrete solves a multitude of problems
Standard concrete is a dense, heavy material - and those qualities are advantageous in many applications such as footings, foundation walls and floor slabs. In contrast to standard concrete, cellular concrete is relatively light.
Cellular concrete is made by replacing the stone aggregate used in standard concrete with air bubbles. These tiny bubbles are created by blending foaming agents into the concrete during the mixing process.
Cellular concrete characteristics
Low-density. By controlling the foaming action, it's possible to manipulate the density of cellular concrete, creating densities that range from 15 to 120 lbs. per cubic foot. Standard concrete has a density of about 145 lbs. per cubic foot
Excellent pumping qualities. Thanks to its high air content and low density, cellular concrete is easy to pump -even when long distances are involved.
Light but strong. Cellular concrete is typically stronger than compacted fills or soils, even at its lower densities.
Permeable or non-permeable. A broad range of applications are possible because cellular concrete can be formulated to stop water penetration or allows it to drain through the material.  
Self-leveling. Cellular concrete has excellent flow characteristics. It performs well at filling voids and flowing to form a level surface.
Insulating. The air bubbles captured in cellular concrete give the material much better insulating qualities than other masonry materials.
Cellular concrete applications
Cellular concrete is a very versatile material because it's possible to control the material's density and permeability. Here are a few of the applications possible with this light but strong material.
Roofing. Cellular concrete (sometimes referred to as lightweight insulating concrete, or LWIC) can be poured over a flat roof to form a seamless layer that insulates the roof while also improving its resistance to shear forces.
Flooring. When pumped over a rough, irregular or worn (but structurally sound) floor, cellular concrete will cure to a smooth, level surface that's an excellent base for finished flooring. No screeding or leveling is required. Cellular concrete can be used to form precast stairs, concrete balconies and appliance platforms.
Geotechnical applications. When weak soil is encountered, pouring or injecting cellular concrete enables technicians to significantly improve soil load-bearing qualities. Cellular concrete can be injected into the soil or applied as a fill material, achieving a compressive strength as high as 3000psi. Other geotechnical applications include backfill for tunnels and retaining walls, annular grouting for tunnels, fill for bridge approaches, and fill for sinkholes and abandoned underground tanks, pipelines and mines. 
| | | |
| --- | --- | --- |
| | | |
| Annular grout for tunnels, water and sewer lines | Ground improvement for building structures | Bridge approach and landslip repair fills |
Looking for a price? Get a no cost, no obligation free estimate.