How PolyLevel® Lifts Sunken Concrete Near Iron Mountain, Ashland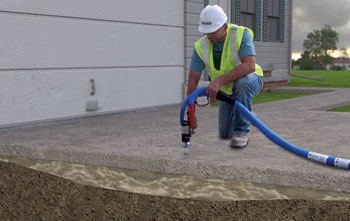 When you look outside your window, do you see an uneven sidewalk or cracks in your driveway? Northland Basement Systems uses polyurethane foam to lift concrete slabs in Upper Peninsula.
How does PolyLevel® fix sunken concrete? It relies on the unique qualities of expanding polyurethane foam, making it:
Environmentally safe
Affordable
Waterproof to prevent future erosion
Quick and without mess
A lasting solution!
In other words, PolyLevel® takes the original concept of mud jacking and combines it with modern knowledge and technology.
PolyLevel® not only results in a solution that looks better and lasts longer, it is less destructive to the applied surface. Mud jacking uses a heavier fill to level the surface and requires a larger quantity of injection holes along with larger sized injection holes.
PolyLevel® is installed in a simple 4-step concrete lifting process that results in a safe, secure and level concrete slab. Contact Northland Basement Systems to meet with one of our concrete repair experts in Marquette, Iron Mountain, Ashland and nearby. We will inspect your foundation or concrete slab and provide an estimate to have your sunken concrete slab lifted with PolyLevel®.

Step 1: Small 5/8-in. holes are bored through


the sunken slab.


Step 2: An injector port is installed in each hole.

Step 3: High-density foam is injected into the
port, whereupon it expands and lifts the slab.

Step 4: With the port removed, the holes


are cleaned and patched with cement.
Looking for a price? Get a no cost, no obligation free estimate.