Getting Ready To Finish Your Basement Near Iron Mountain, Ashland
Simple steps to prepare your basement for finishing
An unfinished basement is like an empty palette: ready to be filled with what's stored in your imagination. But, like a good painting, the best finished basements come with a little planning and preparation beforehand.
Northland Basement Systems has the training and professional experience you're looking for!
We'll walk you through each step of finishing your basement, beginning with a fully customized basement finishing quote! To schedule an appointment, contact us by phone or e-mail today!
Five Steps To Take Before Finishing The Basement
Creating a dry, humidity free space -- and finishing it with long-lasting, quality materials -- is the key to finishing a basement properly. A little planning and preparation beforehand can potentially save you a bundle of money (and a big headache) several years down the road.
At Northland Basement Systems, we recommend taking these five steps before any work begins: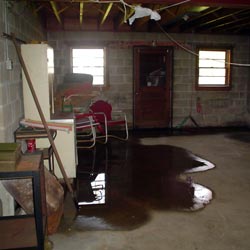 Address All Sources Of Standing Water
While our products are made to withstand mold, moisture, and humidity, the furniture and other items in your finished basement may not fare as well in a flood.
If your basement is flooding, a great first step to protect from this potential disaster is to clean your gutters, regrade the soil outside, and install a waterproofing system in your basement. A full perimeter drainage system, sump pump, and battery backup can help you rest easy.
---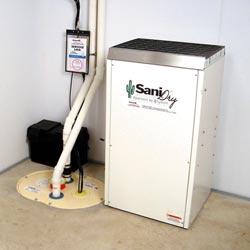 Eliminate Humidity From The Space
Even when a basement has no visible signs of flooding, it can still be vulnerable to humidity. This humidity can be a result of air leaks, ventilation, or it can simply be from water vapor that passes through the pores of the concrete walls and floors.
Installing a basement dehumidifier is an excellent way to address this humidity, provided that the system can circulate air throughout the space, and it's powerful enough to do the job.
Our SaniDry™ XP Dehumidifier is a high-efficiency, low-maintenance solution to any potential humidity in a basement. House the unit in a closet, ducting it into your basement while operating it via a wall-mounted panel.
---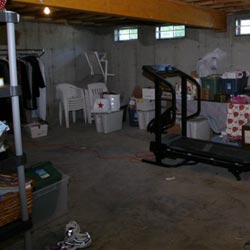 Consider How Much Space You'd Like
Most homeowners will not plan on finishing the entire basement. Instead, a portion of the basement will usually be set aside as a utility area, where your water heater, furnace, and other utilities will be located.
Many homeowners will also designate an additional section of their basement to serve as a laundry room and/or storage area.
If you'd like to upgrade the appearance of these spaces without actually finishing them, we have products that can do that for you too -- such as our insulated Zenwall™ Basement Wall System. Our waterproof basement flooring is also a great option for laundry rooms and storage areas.
---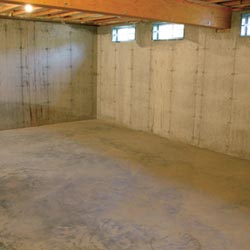 Plan Your Rooms Around Obstacles
Basements are unique spaces that provide remodelers with challenges that aren't found anywhere else.
When remodeling your basement, your experts will have to consider challenges such as limited ceiling height, staircase locations, and where your utilities are placed in the basement.
Windows are also a unique challenge for remodelers -- as you won't want a wall built in a way that it intersects with a window location.
In the case of basement bedrooms, these windows may need to be developed for egress access (an emergency exit) to meet local and state building codes.
---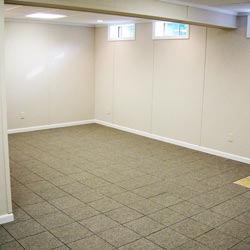 Choose The Best Finishing Materials
At Northland Basement Systems, we've seen countless basements that were finished with materials that were inappropriate for the environment provided there.
Cold tile underfoot, insufficient lighting that makes the basement feel more like a finished dungeon, and drywall that's ruined by humidity from the walls can all ruin the joy of a finished basement. Ultimately, the results are always the same: the homeowner wants the space renovated.
Basement remodeling is a job that's best when you only have to do it once. That's why we specialize in quality, warrantied products that are designed specifically for the job. You can count on us for a warm, bright, and comfortable finished space!
We Can Transform Your Basement Into Finished Space!
We want to help you maximize the value, comfort, and enjoyment of your home by upgrading your basement into an exciting new living area! Your specialist can model your basement on our innovative 3-D software, working with you to customize a remodeling plan that's ideal for you.
A typical basement remodeling can be done quickly in your home -- with our in-house installation crews typically completing all work in less than 10 day's time. You'll love how quickly our professionals can bring your vision to life!
It costs you nothing to meet with a specialist for a basement finishing quote! Each free quote includes an on-site inspection and measurement, a professional consultation where we answer any questions you may have, and a 3-D customized finishing plan. To schedule your appointment, contact us by phone or e-mail today!
We proudly serve Marquette, Iron Mountain, Ashland, nearby Escanaba, Iron Mountain, Ironwood, Eagle River, Hancock, Iron River, Phillips, and many other parts of Michigan and Wisconsin.
Looking for a price? Get a no cost, no obligation free estimate.